The demographics of social media platforms are continually evolving. Today the younger generation is more inclined to use newer platforms like Snapchat, TikTok, and Instagram weakening the power of other platforms.
Despite this worrying shift, social media platforms like Twitter remain a force to reckon with. The Twitter platform attracts more than 335 million monthly active users making it an excellent channel for businesses looking to generate leads and increase conversion.
Stats show that:
The stats only echo the potential the platform presents for brands looking to convert traffic. Unfortunately, marketers assume that the number of followers is critical to attracting Twitter traffic that converts. It is not the case.
What matters is the number of people engaging with your tweets, e.g., by retweeting or clicking on links. You also need to create channels that enable followers who are ready to convert to do so. For example, when you identify potential customers who have retweeted, how do you direct them to your website to purchase products? Here's how:
1. Pin a Tweet
Just as Facebook, Twitter allows users to pin Tweets on their profile. This means the pinned Tweet becomes the first for your followers and other users to see when scrolling through your Feed. Stats show pinned Tweets generate more engagement than non-pinned tweets.
While users can pin any Tweet, it's best to pin those leading to high-converting pages, e.g., a signup page, an article that creates a discussion with an audience, or a product launch landing page. It would help if you tested several pinned posts to identify one that performs best.
Be sure to include images, links, and a variety of CTAs to generate as much traffic. It's easy to pin a tweet. You only need to click on the 'More' link on any of your tweets and choose Pin it to your profile page.
2. Include URLs in Your Profile
There are two ways for you to include a URL in your profile. You can use the website field to send users to your landing page, homepage, or another high priority page. Alternatively, you can include the link in the 'Bio' section. Such links also attract more traffic as they don't get lost in the Feed.
3. Use Intriguing Tweets
Twitter marketing relies on the content just as other forms of content marketing. As such, the tweets should be intriguing and invite followers to click. You don't want to overdo the tweets as they may just turn off followers. Use phrases like:
Only three (or less) days left
Join now
Hurry
Find out more
Be a part of
The idea is to make the tweets irresistible. It would also help if you researched the topic to find out things that interest your audience most.
4. Tweet Like Humans
Followers are more inclined to follow, retweet, and sometimes purchase from brands that provide value. As such, your tweets should be human from the onset. Keep in mind; followers have other things going on, so you need to give them a good reason for them to pay attention. While strong CTAs and hashtags will do the trick, humanizing your tweets is likely to drive more Twitter traffic that converts.
5. Use Hashtags
Hashtags are a critical part of using Twitter. They not only help an audience find you but also increase engagement. According to Hubspot, tweets with hashtags increase engagement by 1065% in comparison with those without hashtags. Additionally, they are more likely to be retweeted than those without.
If looking to find a good balance, consider using one specific hashtag along with links and two to three hashtags in the rest of the content to generate more traffic. You don't want to use too many hashtags as your tweets might appear cluttered. Less is more. Twitter stats show tweets that have only one hashtag are 69% more likely to be retweeted than those with two hashtags. Also, ensure the hashtag is relevant to your brand, audience, and industry.
6. Identify the Peak Time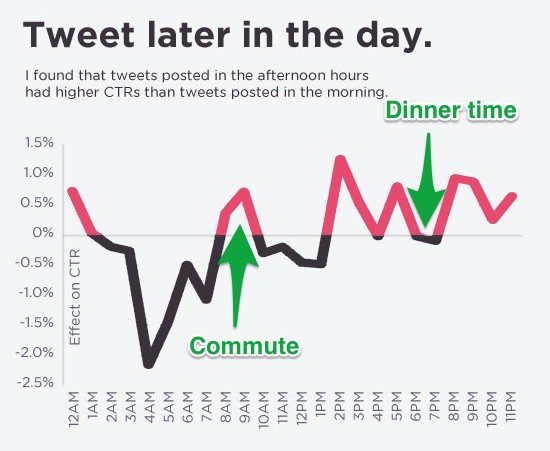 According to Hubspot, the best time to post tweets is between 8 and 10 am and 6-9 pm. However, marketers whose primary goal is to increase the click-through rate should consider posting tweets at noon or between 5 and 6 pm.
This is because during this period, people are having their lunch break or winding down their workday. Another report by Adweek shows 5 pm has the highest retweets while posting between 12 and 6 pm attracts the highest click-through rate. Other studies were, however, more consistent in their findings as they found that posts made during the day yielded the highest CTRs and the most engagement.
Since this time range may vary based on one's audience and type of product or service, marketers should try different scheduling times every day. The following strategies should help you determine the best time to post a tweet:
The type of business: The standard posting time varies between B2B and B2C businesses. The best time for B2B companies to post tweets is during regular business hours, i.e., 9.am-4 p.m. from Mondays to Thursdays. Marketers working with B2C businesses should consider posting during lunchtime, i.e., from 12 to 1 pm as customers do their shopping during off-hours
Define your audience: Are you selling your products to stay-at-home parents, teenagers, or the working class. All such audiences scroll through Twitter feeds in different periods hence the need to analyze their schedules and habits when developing your Twitter posting strategy
Use a scheduling tool: They allow you to create tweets ahead of time and organize when they can be posted automatically. Such a tool enables marketers to try different tweet times without posting the tweets manually
Monitor engagement and impressions: Analyze Twitter analytics too to identify when the most engaging tweets were posted. Track profile visits, impressions, number of tweets and more
7. Tweet Consistently
Apart from knowing when to post, you need to optimize the number of times you make posts in a day. The average lifespan of a Tweet is 15-20 minutes. Such a short lifespan means brands need to post often to remain visible to their target audience and drive Twitter traffic that converts. Note while users' profile feeds display posts in chronological order, their home feed doesn't use the same criteria. This is because other people Tweets often making a home feed move quickly. It explains why Twitter allows followers to Tweets up to 10 times a day, unlike other social media platforms where users post only once a day.
8. Retweet Old Content
Until 2021, Twitter users would retweet similar posts frequently to increase reach and engagement. However, after Twitter updated its rules, users could no longer share identical tweets. This does not mean brands can't recycle old content. They only need to tweak old tweets along with fresh content so the audience doesn't feel like its reading the same post constantly.
Retweeting old content has proved to increase engagement significantly. Big brands often recycle the best content enabling followers who have missed high-quality tweets, links, and videos to view them. This is because the retweet reaches a different audience as it is posted at a different time from the when the original tweet was published. Also, there's the notion that existing likes and retweets act as social proof making more followers want to engage with it.
Marketers should experiment with a few strategies to find out the best way to retweet a post. You can start with an article headline, quote, image, or link to find out what resonates with your audience and increases traffic. It would help if you also included CTAs within the content and share it to generate conversions.
While most content can be recycled, there are some exceptions. For example, event-related content, breaking news, and trending topics rely on timeliness.
9. Use Twitter Cards
Initially, Twitter cards were designed to create more space to engage followers. However, beyond creating more space, the cards are a visual component that helps brands stand out from an avalanche of monotonous text updates. And stats show tweets accompanied by images attract more engagement in the form of clicks, likes, and retweets. An A/B test conducted by Hubspot found that Tweets with images get 55% more leads and a 41% increase in retweets. Other benefits of using Twitter cards include:
Attracting more followers through immersive interactions
Making tweets more attractive
Increasing conversions
Increasing a brand's visibility
10.Use Catchy Quotes from Your Blog
If your primary objective is to drive traffic to your blog, you can use catchy quotes to pique your audience's interest. Such quotes grab the reader's attention and make them want to click and find out more about the blog.
11.Invest in Paid Twitter Ads
Twitter ads provide an incredible way to complement your strategy to drive traffic to a website. This is because the ads reach thousands of targeted followers and customers. As such, businesses should allocate money to invest in paid twitter ads.
The main reason businesses should consider investing in paid Twitters ads is the reducing organic reach since Twitter made changes in their Feed. Instead of displaying recently posted tweets, it shows the most relevant tweets. It only shows social media reach is plummeting every day.
Another reason you should consider paying for Twitter ads is the increasing competition and cost of Facebook Ads and AdWords. More brands are using the same keywords, which not only increases competition but the cost of advertising.
For example, Facebook was the most affordable platform for advertising, but as more advertisers flocked, the cost increased. A report on Forbes shows a 21% increase in ad pricing and 29% in the CPM (cost per thousand impressions). Considering such a report, Twitter seems the only affordable platform for advertising.
When setting up paid Twitter ads, you don't want to promote any Tweet; look for one that leads to high converting pages to make your campaign profitable. Twitter sells ads through an auction. Thus the more willing an advertiser is willing to pay, the more likely their ads will be shown. If you set your bids too low, you won't get as many impressions. A few tips should help you optimize your campaign and make it go viral:
Use fresh tweets: Twitter checks on the freshness of a tweet when running ads. As such, marketers should consider testing different variations of each ad and replace them with new ones instead of using old ones
Check for relevance: Avoid promoting content that your audience shows little or no interest. Consider targeting a smaller audience interested in the content to achieve higher conversions and promote engagement
Promote the best stuff: Use tweets that are more likely to increase engagement. The result is lower ad costs and a higher score
12.Ask Followers to Shares, Clicks, and Retweets
It never hurts to ask when you want something from an audience. Tell them what the content is about and ask them to retweet. In this scenario, the primary goal is to increase engagement and conversion, hence requiring a CTA to entice the audience to take action. It seems simple, but you need to employ some tact when asking your audience to participate. Here are some tricks to help you:
Ask for it: Include phrases like 'please retweet' or 'please share' at the end of the post
Ask for followers to spread the word: Small businesses and brands often work with non-profit organizations. You can ask fans to spread the word about something that requires mass engagement
Offer incentives: Consider offering incentives such as discounts or giveaways if users retweet. Such a strategy can be highly effective depending on the incentive
Most of the strategies discussed are free to use and need a little time and adjustment to the content you are already creating for your Feed. You only need to identify the right strategies to increase engagement with your audience and ultimately drive Twitter traffic that converts to your website.
Sign up for our monthly social media growth plans to gain more followers, likes and views. Working for every social media platform.