Twitter was launched in 2006 and has become a social website, most popular among millennial and young professionals. In recent years it has grown and has a significant number of users from other age groups. It works by encouraging users to follow individuals and brands.
This creates real-time news streams that interest them. Digital marketers are well covered because Twitter provides them with a platform to connect with their customers and gain insight into how their brand is performing in the marketplace. Twitter has come a long way as a social website to become what it is.
In this article we will talk about a number of incredible facts about Twitter.
1. Larry the Bluebird
Little is known about the name of the Twitter bird. Even normal tweeps certainly do not know that the bird has a name. His real name is Larry. It is a name that was given in 2012, although Twitter was only launched in 2006.
It is interesting to note that the logo was named after Larry Bird, a famous NBA basketball player.
2. 'FriendStalker' was the original name of Twitters
The Twitter development team was looking for a name for their app. A co-founder of Twitter, Evan Williams, suggested 'FriendStalker'. This was informed by allowing users to "stalk" their friends, celebrities and followers. They could scroll through their timeline and see what they were talking about.
But Noah Glass, another co-founder, didn't like the name and set out to find a name that would be acceptable to the team. He started searching dictionaries for words similar to "Twitch" and came across Twitter. This was accepted and they accepted the name!
3. Jack sent the first tweet ever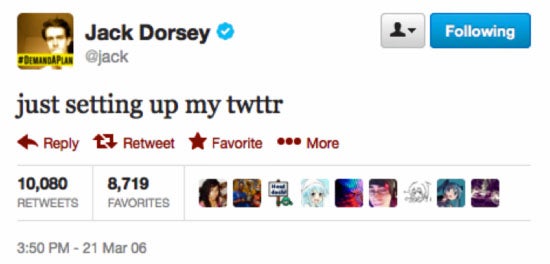 Jack, the CEO and co-founder of Twitter, sent the first tweet on 21 March 2006 when they launched Twitter. This was before the service was launched in July 2006.
He posted it at 21.50 and the tweet was "Just setting up my twttr. He followed a trend in early 2000 where people left out a vowel to shorten their words.
4. The origin of # Hashtag
The use of hashtags debuted on Twitter in 2007. This was introduced by a user named Chris Messina. He is responsible for introducing this revolutionary feature to our digital world.
On August 23, 2007, he posted a tweet saying, "How do you feel about using # (pounds) for groups like #barcamp msg? Since then, hashtags have been developed to help users in any social website to connect to a topic and find posts about the same topic. It is interesting to note that he did not patent the idea, but wanted it to be free to use.
5.Library of Congress archives all Tweets
In 2010, America's Library of Congress began archiving all tweets posted since the launch of Twitter in 2006, regardless of content or context. The aim was to store the tweets digitally and make them accessible to researchers.
Six years later, in 2017, they announced that they would begin archiving selected tweets that would benefit the American people; tweets with historical value. Part of the reason for this was that they would have to make significant investments in storage capacity to accommodate the growing number of tweets that were being published every minuten.
6. 280 Tweeter sign
In 2006, when Twitter was introduced, there was a trend to omit vowels to shorten messages. And Twitter had a 140-word sign for tweets. This wasn't a major problem until in recent years users began criticizing this character restriction. Twitter teams have also noticed how users have had difficulty editing a tweet to fit the 140 characters, and in most cases they've abandoned the idea of tweeting altogether.
In 2017 the characters were added to 280. This was well received and the number of tweets per day increased exponentially. This step attracted new users and Twitter activity increased.
7. Big smiley face with tears of joy is the most used emoji
We have over 3000 Emoji in Unicode standard in use. All in all, every fifth tweet has an emoji. But the face with tears of joy in the absence of a better description is the most commonly used emoji on Twitter. It represents something funny and pleasant.
Positive tweets are more common, with one in three out of four tweets being positive. This is why we have the big smiley emoji as the most commonly used. This positivity is clearly visible towards the weekend. This time people are more relaxed and in a good mood. It is no wonder that the emoji and other positive emojis are tweeted more often on Fridays and Saturdays. To put this into perspective: 77.7% of the emojis on these two days are happy, positive emojis.
8. Twitter als Breaking News Tool
When Twitter was launched, it aimed to create a messaging platform for small groups. This was the case until 2009, when it was highlighted as a tool that would prove useful for sending messages. This happened on 15 January, when a photo of US Airways' flight that crashed on the Hudson River was published. This news was first posted on Twitter before other traditional media houses did so.
Apart from that, in August 2011, when Beyoncé announced her pregnancy on MTV, the number of tweets rose to almost 9000 tweets per second. That was the highest number ever, and everyone was informed.
9. 330 million active users per month
In the first quarter of 2021, Twitter had 330 million active users per month and an incredible 152 million daily users. This is a significant growth compared to 2021. It shows that Twitter has the potential to grow exponentially in the coming years.
The real figure that shows the predicted growth of Twitter in terms of its users is the 500 million people who access Twitter every month without logging in. This creates a potentially lucrative platform for digital marketers and for any marketing campaign.
10. Twitters technology
It is overwhelming that Twitter technology can handle up to 18 trillion followers. With 111 million followers, Barack Obama is the person with the most followers, followed by Katy Perry and Justin Bieber in second and third place. It is important to note that the ten people most often followed are seven singers.
In the last three months Twitter has gained 4 million new users. An impressive number. You can't follow more than 2000 people unless you have won 2000 followers. An interesting algorithm that is at work right here. During this time, more than 391 million accounts have been created on Twitter and they have no followers at all.
11. 80% use Twitter on their mobile devices
80% of Twitter users use their mobile devices; phones and tablets to access the platform. With Twitter allowing text, GIFs and videos as content on the social site, we have 93% of all uploaded videos viewed on mobile devices.
This information will help you think about your marketing strategies and invest more in Twitter advertising for mobile devices. As a digital marketer, your priority should be to create marketing campaigns that are creative and optimized for mobile. In addition, the links and websites you share that drive customers should also be optimised for mobile devices. This will ensure that your campaigns reach a wide audience.
12. 350,000 tweets are sent every minute
Although Twitter has not caught up with other social sites in terms of activity on its platform, 350,000 tweets posted every second are not that bad. That's 5,787 tweets per second and half a billion a day.
Given the numbers, it is important for a digital marketer planning to use this platform to keep these statistics in mind in order to strategically set up a social media marketing plan. Use your tweet schedule, analyze all the key statistics and determine the best time to post a tweet.
12.Twitter Video Statistics
Tweeting videos is becoming increasingly popular and is an exciting aspect. Watching videos is the third biggest reason why people are on Twitter. Every day people watch more than two billion videos on Twitter. Take advantage of this and create marketing campaigns with videos to get your audience's attention.
Tweets with video get ten times more engagement compared to those without video. The cost per engagement is 50% less for Twitter ads with video. Take advantage of this and market your brand. You might even consider promoting your tweets with videos, since they want videos, give them that.
13.Twitter Demography
While Instagram, Tik Tok and Snapchat make up the lion's share of the younger generation, Twitter has its own age group that it appeals to. These are people between the ages of 35 and 65. This group represents 63% of Twitter users worldwide. In the USA, the average age of a Twitter user is 40 years. This clearly shows that Twitter users are more mature compared to users of other social websites.
In terms of gender, men use Twitter more often than women; 66% of all Twitter users worldwide are male and only 34% are female. This data will help marketers position their marketing campaigns when they discover that women interact with brands more than men.
14. 3.39 minutes per session Average time spent on Twitter
The average length of stay on Twitter in one session is 3.39 minutes. This is a good time record considering that Twitter uses a byte-sized communication form with a maximum of 128 characters. Since the message is short and to the point, the time spent on Twitter is explained in comparison to other social sites.
Twitter is a popular social website for news and the most important reason why people use it. For this reason, a quarter of verified accounts belong to journalists. The byte-sized messages make it easy and quick for users to consume all the messages shared on the platform.
16. 67% of B2B use Twitter
The potential of Twitter has yet to be fully exploited. But here are some statistics that should convince you more. We have 67% of all B2B companies using Twitter as their digital marketing platform. Like other social sites, Twitter has played a role in enabling face-to-face conversations with consumers.
These talks moved from unidirectional to multidirectional. This is where consumers listen, and where they can react, not only to the brands, but also to other consumers. That makes brands not only present on Twitter, but also interesting. The fact that 77% of Twitter users have a better impression depending on how the brands react is a figure that cannot be ignored.
17. Twitter for marketing
Digital marketers and small businesses that want to take the step to Twitter will find some interesting statistics that will help you. There are 65.8% of U.S. companies with more than 100 employees that do their marketing on Twitter. 58% of top brands have accounts with more than 10,000 followers. An ideal number for engagements with their potential customers.
92% of these companies twitter several times a day. 42% of these companies twitter between 1-5 times and 19% between 6-10 times. Note: Tweets with pictures get 18% more clicks, 89% like and 150% more retweets compared to those without pictures. Apart from that, the average user follows at least five brands, and one brand was mentioned at least once by 80% of tweeters users. With the continued growth of digital business, Twitter has seen an increasing number of customer service conversations over the last two years.
Conclusion
The above 16 incredible facts are up to date, and we hope they are interesting for you. They are designed to give you a real-time and in-depth view of Twitter and its users. As a brand or digital marketer, this information will help you develop brand strategies that will help you promote your brand, connect with the more than 330 million active users and generate actual sales. This is a huge number of consumers that you should quickly tap into before your competitors do!
Sign up for our monthly social media growth plans to gain more followers, likes and views. Working for every social media platform.