10 years ago, the pinning was physically performed. Remember the notes we pinned to the refrigerator, the cork plate or the planners on the kitchen wall? That has now changed and is done digitally by Pinterest. This is a social media platform designed for sharing images, allowing you to store images and find information using images, GIFs and videos. It uses pin boards.
While other social sites have linear timelines that you would consider boring, Pinterest dared to use pins and decorate the site with colors and crooked lines. Over the years, it has seen an exponential growth in users, and most of them find it fun and an inspiring site. There is so much on the site that you can simply pin something you love to your personal board. You can find recipes, decoration ideas, learn new ideas through how-to posts, shop and plan your life with inspiring boards. Interest is addictive!
Let us examine some unknown facts about Pinterest.
1.    367 Monthly active users

In the first quarter of 2022, Pinterest reached 367 active users per month. Although this is significantly less compared to Facebook with 2.7 billion active users per month, Pinterest is on the rise and shows steady growth. 90 million MAU are in the USA and 277 million MAU are international users.
This increase in users is due to Pinterest's efforts to personalize the Pinners experience. This is done by improving their search recommendations while enhancing the video content. This has helped to keep users heavily engaged with topics and themes that are popular with them, such as DIY, fashion and gardening.
2.     Pinterest 70% users are women
The gender-specific demography of any social site cannot be ignored. Pinterest has 71% female users and 39% male users. Apart from the fact that women form the majority on the platform, they are the most active users. Pins from men are only 7%. This may be due to the fact that women feel more emotionally connected to the platform and use it as inspiration and motivation, while men use it practically as a tool for visual bookmarks.
Apart from motivation and inspiration, 52% of the women use Pinterest as a platform where they learn new skills in areas such as recipes and DIY. Another 70% use the social site to find accessories and 58% use Pinterest to make purchasing decisions and shop. This flood of more women than men on Pinterest seems to be changing as more and more men join the platform.
3.     40% fathers in the USA use Pinterest
While women dominate in the use of pinterest compared to men, there is a category of men who use pinterest in large numbers. This group includes fathers in the USA, but fathers in other parts of the world also turn to Pinterest. Statistics show that 40% of fathers in the USA use Pinterest.
They are on the platform to do research, plan for paternity and even go shopping. We have some interesting figures about how these fathers use the platform. 82% find new products on the platform. Compared to other men, fathers are 1.2 times more likely to look for healthy recipes, and 450% more DIY projects come from fathers looking for projects they can do with their children. If you create content yourself, this is a classic niche to conquer.
4.    90% use the positivity found at Pinterest
We see brands becoming real overtime, and Pinterest has been really committed to maintaining this from the beginning. Over the years, this platform has developed into a place where users find inspiration and guidance and receive support in addressing issues that are difficult to discuss. Find out about the following emerging trends that users have been looking for on the platform in 2021
Trends in magazines for self-discovery, detoxification through social media, art therapy activities, gender-neutral names and a low-waste lifestyle These are just some of the trends that captivate users and which they cannot help but follow closely. It is time for consumers to realize the importance of brands taking a stand on matters that affect the public. It's a risky business, but worth all the effort when it comes to building a customer base.
5.      52% Millenial Use Pinterest
That's a huge number. You're talking about one in two millennia being a Pinterest user. These technically and socially skilled groups use Pinterest to find new ideas and plan their future. They are also good buyers on the platform; they are more likely to buy something that they attach.
For e-commerce marketers, this user group is a good target audience to engage with for their brands. This is due to the fact that the millennials have to search for products and brands before buying. In perspective, we have six out of ten millennia who discover new products on the site. In addition to searching and browsing the site, they find inspiring information that helps them make their dreams come true.
6.   14.2 minutes average time spent on pinterest
14.2 minutes is a good time to get the attention of your audience. As the platform develops and content creators provide a lot of capturing content, the average time spent per session on Pinterest increases. When you create content, you will achieve that more time is spent on the social site if you create engaging content.
Gymshark, for example, a fitness company, adapted its tone of voice to one that addressed its target audience in the right way. And they delivered the right messages in a very short time and were able to actively drive the engagement with over 1.8 million followers.
7.   80% use mobile devices to access pinterest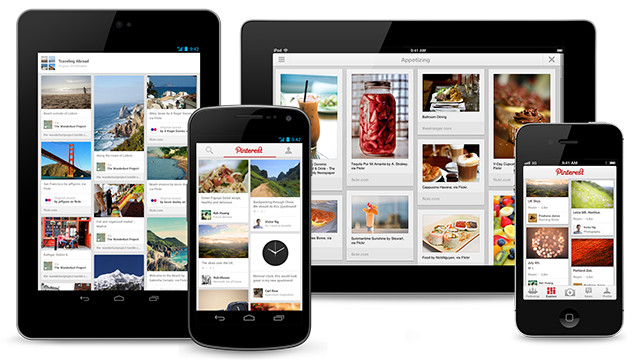 Just like the other social sites, 80% of Pinterest users prefer to access the platform with their mobile devices. This goes hand in hand with the growth of online activities. Pinterest is constantly improving to offer Pinners features that make using mobile devices more entertaining. For example, Pinterest has a Mobile Ad Tools feature that allows marketers and business owners to create and manage campaigns from their mobile devices.
For marketers, this means that you need to evolve with changing conditions and develop content that is optimized for mobile devices. Creating content with high quality images, clear and easy to read text from a smartphone screen will grab your audience's attention and there is a high probability that they will delve deeper into your brand.
8.   89% use pinterest to make purchasing decisions
Pinterest was not only used for inspiring content, but also by Pinners who used this platform for other things. 89% of Pinterest users used the platform to seek inspiration while they were on their way to buy something. This number should motivate a digital marketer to use this platform. 82% of pinners say that they bought something based on brand content through the platform.
Pinterest has continued to develop and has made this purchase seamless with the introduction of product pins. This allows brands to upload complete catalogues of their products. The catalogues will contain prices, a description, availability and direct links to a company's business profile. Recently, Pinterest has introduced a "shop" feature that allows advertisers to tag up to 25 items on an image and direct you to a business profile for direct purchase.
9.    28% Pinterest Popularity among marketers
Pinterest is one of the most popular social websites, right behind Facebook, Instagram, Twitter, LinkedIn and YouTube. 28% of e-commerce marketers worldwide use Pinterest to promote their brand. This is a huge number when you consider that Pinterest has a lower number of users with only 367 million MAU compared to the other social websites.
The website is very popular to influence retail sales. Four out of ten Pinterest users use the platform for shopping. And as mentioned above, a whopping 89% shop on the website. This enormous potential was made possible by the possibility of recommendation. Here, Pinterest refers its Pinners to the shopping websites. To put this into perspective: Pinterest drives 33% more traffic to business websites than Facebook!
10. More than 200 billion pins saved on pinterest
So far we have saved over 200 billion pins of pinterest. This corresponds to an average of 667 pins per pinner. This number is growing every second day, and with it the number of pins saved. Two thirds of these pins are market related, either brand or product related, while 1.7 billion pins are custom made.
Considering that the platform is of a visual nature, 99% of these pins have an image, while 0.3% of them have video. With more than 14 million items pinned daily, this is an interesting static for social marketers to plan their marketing tactics. One more thing: Pinterest has a commitment on Mondays and Saturdays.
11. Needles live longer
A Pinterest pin lives for months! The life span of a tweet is a few minutes, while that of Facebook is only a few hours. An average pin may appear in a search months after it is posted. This is because Pinterest was created for planning purposes, while other social sites like Facebook and Twitter are used to remember the past and analyze the present.
Boards at Pinterest are created by users as inspiration and stimulation; we have party recipes, DIY decorations, art and gardening, among other things. These pins can be used several times and for as long as there are users.
12. 2 billion monthly searches for pinterest
Every month there are more than two billion text-based and guided searches on this social platform. These are searches entered as text, and the Pinterest algorithm then returns results with suggestions narrowed down to what you are looking for. The reason for this is that users do not always look for the right answer, but for a set of suggestions and recommendations.
Interestingly, Pinterest also offers a visual search similar to Google's reverse image search. Here, users can zoom into a feature of a pin and perform a search relevant to that particular feature. While this search is not very popular compared to text search, we have 600 million visual searches every month. This information is important so you can create and use high quality images for your Pinterest marketing.
13. 78% of users say that brand content is useful
Pinterest is designed to focus on ideas, themes and inspiration, ensuring that all brand content meets the needs of users. This is exactly what 78% of Pinterest users find useful. When you create content, you only need to create content that is relevant to your target audience. You may need to use Pinterest analysis to find out what users are responding to and thus create content effectively.
Brands that contain educational content are attractive to Pinterest users because they are on the platform to discover new ideas. If your content contains lots of insights and tips, they will love it. Some of the best brands that go down well with Pinterest are wedding brands, interior design companies and food bloggers. To better position yourself to create up-to-date, trendy content, use Pinterest's trend feature.
14.More than 75 billion ideas are of pinterest
Pinterest is an interesting social platform where you can get everything you need. This includes fashion, interior design, recipes, gardening, art and crafts and many others. Saving these pins is addictive and has already contributed billions of pins and plaques to the platform. That's why the statistics show that we have more than 75 billion of them in the form of ideas.
It is interesting to note that an active female user posted an average of 158 pins. Men, on the other hand, prefer one category of food, drink and technology. People love to save these pins, hoping that they will implement all ideas, even if they are not practical, we have pins that do!
15. Pinterest takes second place in the growth of the user base
It is surprising that Pinterest has been ranked as the second fastest growing platform in terms of its users. To put that number into perspective: Tumblr has grown 120%, while Pinterest is second with a growth of 111% in the last six months.
This information is useful for marketers to strategically plan marketing campaigns and get the most out of this huge audience. And for the average user, this is a social platform where you can learn and acquire new skills. As the number of users grows, so does the content and sharing of new knowledge.
Packing
Pinterest is one of the largest social networks with more than 367 million users worldwide. It is a popular social platform for art lovers and people who like to try out new ideas. Buyers also turn a huge audience into Pinterest users. It is important to mention that the platform has an audience that is well educated and has an above-average income.
In the recent past, the platform has become very popular with digital marketers. This is because Pinterest is the place to find reliable, high-quality content that is fun and sophisticated. When it comes to marketing, this platform is 33% better at linking traffic to your corporate website for more engagement compared to a social website like Facebook. This contributes to the high potential to convert leads into customers and the fact that 89% of users who rely on Pinterest for their purchase decision is a great achievement. I hope that the facts discussed in this article shed light on what Pinterest is all about!