Instagram is one of the leading social media site. It is amazing to note that it started as a photo sharing platform that has grown in leaps and bounds. It allows us share our adventurous, fun life and even products and services with our fans, friends and families. One more thing, we can make our own trends and follow other trends that we love from other feeds.
Let's discover these interesting facts about Instagram
1. Kevin Systrom Posted The First Ever Photo On Instagram
Nine years ago, a stray dog in Mexico near a taco stand was the first ever photo uploaded in Instagram. The picture was taken by the Instagram CEO and co-founder Kevin Systrom. At the time the app was known as codename. The dog and owners names remain unknown.
Kevin captioned the picture "test" and was uploaded in July 19, 2010. It was just 3 months into the applications main launch. The photo used the X-PRO2 filter that still exists. Now we are at a point where over 95 million photos are shared daily.
2. 2010 the Year Instagram Was Officially Launched
Instagram abbreviated as IG is a social media site that is a photo and video sharing platform. Instagram was created by two Stanford University students Kevin Systrom and Mike Krieger. It was developed from a unique photo-sharing feature on a web application prototype Burbn; inspired by Systrom's love for fine whiskey and bourbons.
On October 6th 2010, Instagram iOS Application was launched. In one day it had 25,000 users, figures that kept rising and at the end of the first week, the application had been downloaded 100,000 times. As if this was not high enough, by mid-December of 2010, Instagram had reached 1 million users.
3. Launching Of Other Versions
After the launching of the iOS version in 2010 and the exponential adoption of the application, it was time to develop Instagram for other versions of operating systems for more reach.
Android version was released in 2012 April. Then in November same year, the web interface was released. This website interface was limited in terms of it features and this has improved greatly. In June 15, 2014 the Fire OS Instagram version was available. Lastly, for computers and devices that run on Windows 10, the Instagram version was released in October 2016.
4. Instagram has 1 Billion Users Every Month
From the time Instagram was launched, it has since become a social media platform that is very popular. In June 2013 it had 130 million users and in September 2017 Instagram had 800 million monthly users. Months later it hit the 1 billion monthly user mark in June 2021.
These stats rank Instagram the fifth social platform behind Facebook, YouTube, WhatsApp and WeChat. It also is number two in terms of active users as a traditional social network. It has now become a favorite platform for not only vacationers. Brands and influencers, Instagram is their number one social networking platform.
5. Instagram Stories Has 500 Million Users Daily
Instagram stories were launched 3 years ago and have significantly become so popular. It is a feature that allows users to post photos and videos sequences that will disappear after 24 hours of posting. The 500 million users recorded in 2021 grew from 400 million users in 2021.
Every day and with 500 million Instagram users using stories. It has become an important channel for brands and influencers. Apart from this, businesses are taking advantage of this feature as 33% of the stories that are viewed most are from businesses.
6. More Younger Female Than Male Use Instagram
Instagram continues to gain popularity as a preferred social media site for many. 63% of the users login at least daily. In terms of gender, we have 56.3% female compared to 43.7% of males who use Instagram. When it comes to the age demographic,72% of teens use Instagram.
We also have 30% of users aged between 18 and 24 years and 35% are aged between 25 and 34 years. This is a very youthful population that is very dynamic as well. These stats will guide you in your Instagram content creation.
7. 89% Of Instagram Users Are Not In US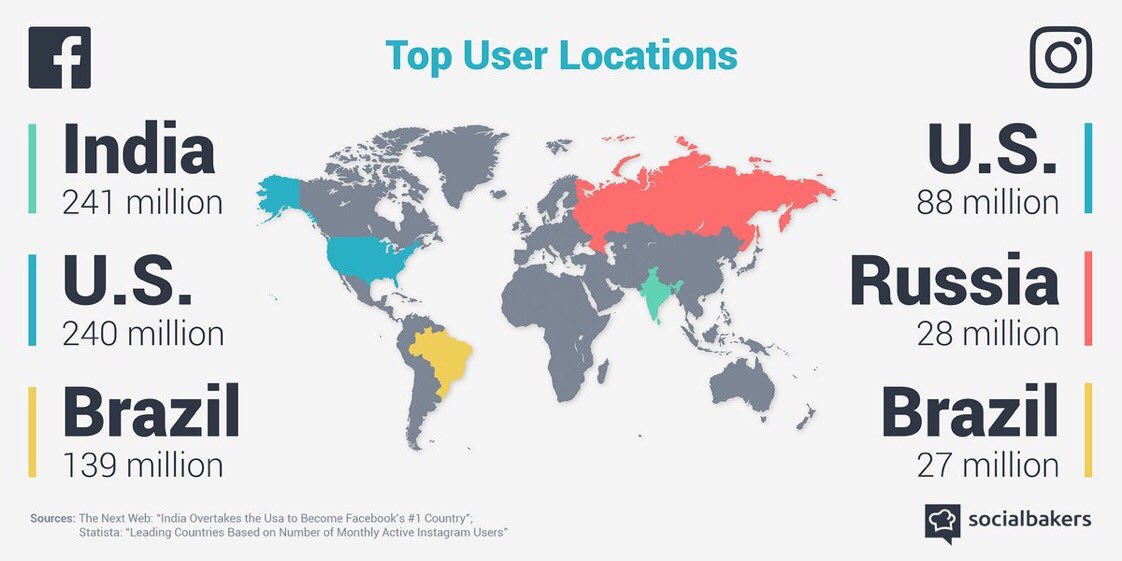 As of May 2022, we had 130.6 million Instagram users in United States of America. This represented 39.3% of the entire Instagram user population. 89% are users outside US. Americans make the largest Instagram audience but note they are not the majority.
US, Brazil with 70 million users, India 69 million users, Indonesia 59 million users and Russia with 40 million users make the top 5 countries with the largest number of Instagram users. This information will help you make decisions in regards to the kind of content you will be creating and defining your target audience.
8. 5 Million Videos Uploaded Within 24 Hours Of Instagram Videos Launch
When Instagram videos were introduced, 5 million videos were uploaded in the first 24 hours. This is to show, the video feature was well embraced. If you wish to get more engagements on your videos, ensure they are not too long and post them between 11 a.m. and 1 p.m. when people are on lunch break and between 7 p.m. and 9 p.m. just when they are home from work.
We have different types of videos that you may leverage on depending on why you have an Instagram account. For example 30-60 second long videos on Tutorials, hand-held selfie videos, animated texts and graphical videos and 15 second influencer videos among many others.
9. 75.3% US Businesses Will Be on Instagram in 2022
Instagram business is a new concept that has really worked in the growth of Instagram as a preferred social media platform. As of today we have over 25 million business profiles and more than 2 million monthly advertisers on Instagram.
70% of shopping enthusiasts use Instagram to discover new products. To make actual sales on this platform most US marketers are planning to spend over 69% of their influencer budget allocation on Instagram. Apart from this, they may push for user generated content known for its high conversion rates of above 4.5%.
10. 200 Million Instagram Users Visit At Least One Business Profile Daily
Instagram has grown to become an interesting social media business platform. With 1 billion users and 500 million daily users, it is important to strategically have your business in place. Have a business profile that is captivating and will have a large number of users check out your page within the 28 minutes they spend on Instagram every day.
Make use of Instagram stories as statistics show that 62% of Instagram users become interested in a product and or a brand after they have seen it in stories. With 200 million users visiting a business profile, your chances of making sales are very high.
11. The Most Engaged Brands on Instagram
You will be surprised to learn that over 60% of the world's top brands use Instagram to market their products. To organically grow their fan base and make sales on this platform, they are doing everything they can. The fashion industry takes the biggest chunk of Instagram users with 35.5 million followers. Others categories like Athleisure, cosmetics, auto and food have 21.7 million, 15.3 million, 15.02 million and 4.42 million respectively.
The top 6 most engaging brands are;
Nike with 90 million followers
Victoria Secret 68 million
Huda Beauty 38 million
Chanel 36 million
Gucci 35.6 million
Zara 34 million
12. $100000 Influencer Marketing Charges for Sponsored Posts
In most recent years and the uptake of Instagram as a Business platform with over 25 million business profiles, influencer marketing has been an alternative method of product advertisement. These influencers are used by companies to shape your customers behavior by influencing engagement and the consideration to buy and use a certain product.
We have two kinds of influencers, the micro-influencer with between a 1000 and 100,000 followers and are more affordable could charge $100 per post. On the other hand we have the macro-influencer with more than 100,000 up to millions of followers. They are mostly celebrities and they can charge up to a $1 million for a post. It is important to choose the right influencer for your brand carefully.
13. #Love Is The Most Used Hashtag On Instagram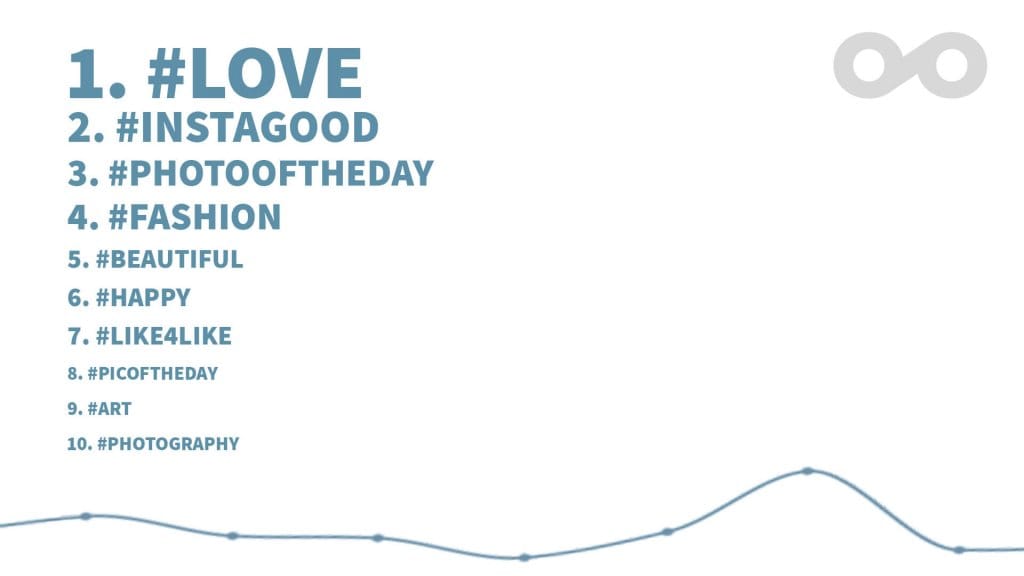 Hashtags are singular words or words in a series that use a hash (#) symbol. They are used in describing posts or can be found in the comment section. Instagram uses hashtags to organize and categorize content for its users.
There are a number of reasons for using hashtags on Instagram. You need to find out the right ones for your exact purpose. They can be used to gain more likes, more followers, make more sales, and can be used to track your hashtag success among other reasons. Popularly used hashtags are #Love, #Instagood, #Me, #Cute, and #Follow. While marketing, these are the popular hashtags #social #branding #success #sales #entrepreneur #entrepreneurship #marketing #branding #tech #business #contestalert #sweepstakes #giveaway #discount #travel #deal #smallbiz
14. Burnei Is The Country With The Highest Percentage Of Instagram Reach
Brunei is a Sultanate country that has seen significant development in terms of Internet infrastructure. This has had a positive impact in terms of mobile phone use penetration as well. 93% of the population has internet access and 83% connects to the internet using their mobile phones.
In 2021 and 2021 Burnei was ranked highest in the reach percentage. It has a 63% reach compared to 37% in the US. Other countries that have a high reach are Iceland with 57%, Turkey 56%, Sweden 55% and Kuwait at 55%. These stats will be helpful for organic content and paid posts if you plan to market in these countries.
15. 7 Million Installations of IGTV App
IGTV is the newest Instagram feature released on 20th June 2021. The feature was to allow users share videos that are long and of high quality. Though Instagram can allow 60 seconds long videos, IGTV allows videos that are even 1 hour long. The idea behind this feature was because internet users became consumers of videos compared to other formats.
The use of longer videos has positively impacted our content creators to make videos that are more informative, appealing and valuable. Though it does not have a monetization feature as of now, content creators may use this feature to garner new audience and create brand awareness.
Instagram as a social media platform has a number of facts and not just limited to what we have discussed today. Whatever the reasons you have to open an Instagram account, remember to take advantage of the above discussed 15 interesting facts and make the very best out of Instagram.
Sign up for our monthly social media growth plans to gain more followers, likes and views. Working for every social media platform.